Lord Wandsworth College has a fantastic full-size 25m pool and is suitable for school aged children of beginner, improver and advanced abilties.
Lord Wandsworth College has long been regarded as a school that is dedicated to and excels in all areas of sport. Their facilities are therefore second to none and are to an extremely high standard. There is a designated car park on site and there are changing, toilet and shower facilities at the pool. There is plenty of space on poolside for parents to watch the lessons.
The pool at Lord Wandsworth is a full length 25m x 9m 4 lane competition standard pool, which allows the children to progress to extremely competent length swimmers. The pool ranges from 1 – 3 meters deep and so allows for the teaching of diving as well as essential personal survival and lifesaving skills.
When you arrive at the school follow the road round to the car park, following signs for Reception/Sports Buildings. Once you have parked follow the path across the grass, between the school buildings and up the stone steps to the sports building. Please arrive no more than 10 minutes before the start of your lesson.
The front door and changing room's doors are all operated by swipe cards so please wait at the door and a member of our team will let you in. There are large male and female changing rooms with showers and toilets in each and plenty of space on poolside for parents to watch the lessons. Please wait until a couple of minutes before your lesson start time before coming on to poolside. There is no access on to poolside from the foyer door – please enter via the changing rooms.
Due to the pools' size and temperature we currently offer school aged classes for beginner, improver and advanced abilities at Lord Wandsworth.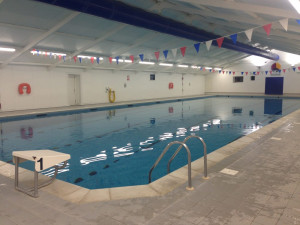 Distance/Travel Times
The pool address is Lord Wandsworth College, Long Sutton, Hook, Hants, RG29 1TB. Please be aware some SatNav's may not bring you directly to the school as it is in a rural location. We strongly advise familiarising yourself with the route on a map/Google before setting on – signal can be poor in the area
Lord Wandsworth College has approximate journey times as follows:
South Warnborough – less than 10 minutes
Odiham – less than 10 minutes
Hook – less than 15 minutes
Froyle – less than 15 minutes
Crondall – less than 15 minutes
Bentley station – 15 minutes
Ewshot – around 15 minutes
Alton – 15 minutes
Fleet – around 20 minutes
Farnham station – 20 minutes