"Our methods are designed to create an excellent foundation for the child's future in the water, promoting safe practices and confidence. As well as this, the classes are an ideal environment for mothers and their new babies to bond, for children to begin to socialise and for whole families to spend quality time together."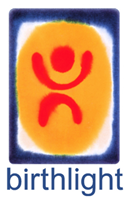 Maximum of 4 adult & child pairs per class

For children aged from 2 months up to 3 years

Benefits include emotional, physical and mental development as well as building confidence in the water
We offer baby and toddler classes for children aged from around 2 months up to around 3 years and takes a natural and holistic approach to baby swimming. Classes are based on age and swimming experience.
There are so many benefit for starting as early as possible including emotional, physical and mental development as well as bonding between parent and baby. These classes work on building confidence in the water through song and game based activities and well as introducing swimming techniques and skills. For more information on what we cover in our classes please read through the information below.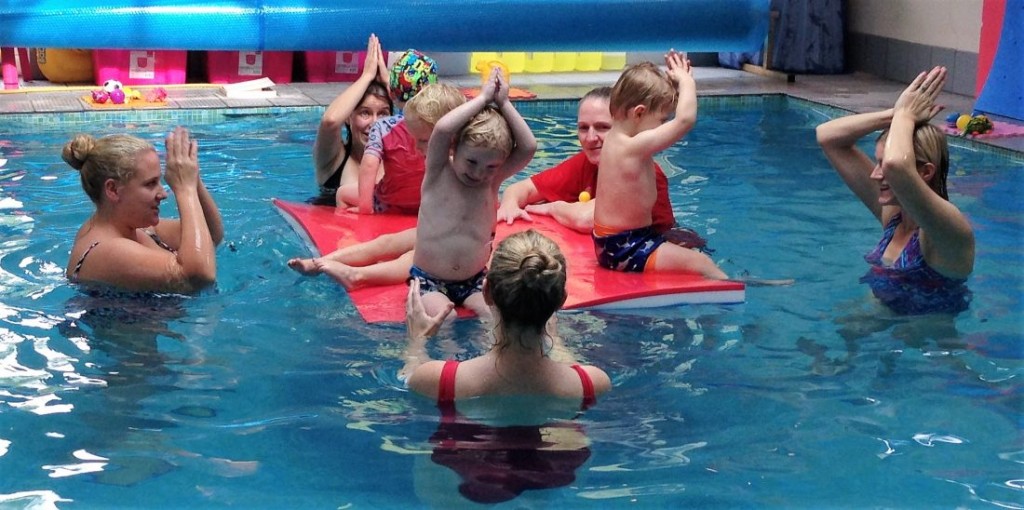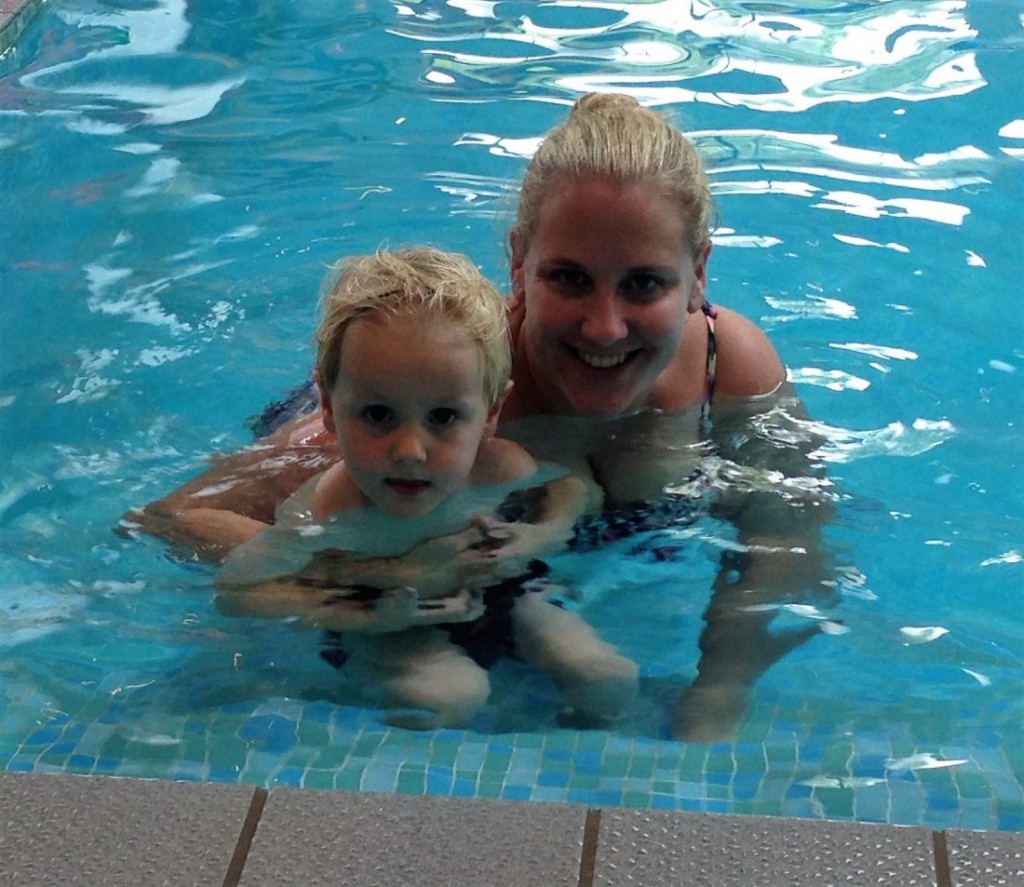 Babies can pick up on their parent's emotions during classes so if you are a nervous/non swimmer please do let us know so we can offer additional assistance. Our classes focus on promoting a relaxed and calm learning environment and we also work with our parents in helping them achieve the maximum benefits from the lessons.
When your child reaches the age of 2.5/3 years we will advise when they are ready to progress to a preschool class (without parents in the water.) There are many advantages to joining a preschool class we take each child as an individual and only progress when they are ready.
Come and start your baby's swimming journey with us in our beautiful warm private pools in Tongham & Grayshott!
There are so many wonderful benefits to baby swimming that stay with babies throughout their lives and at Seahorses we have developed a flexible swimming programme which is progressive and full of fun. Below we have explained just some of the skills and methods used in our classes which offer your baby the best introduction to the water possible!
We look forward to meeting you and your baby and beginning your swimming adventure with Seahorses.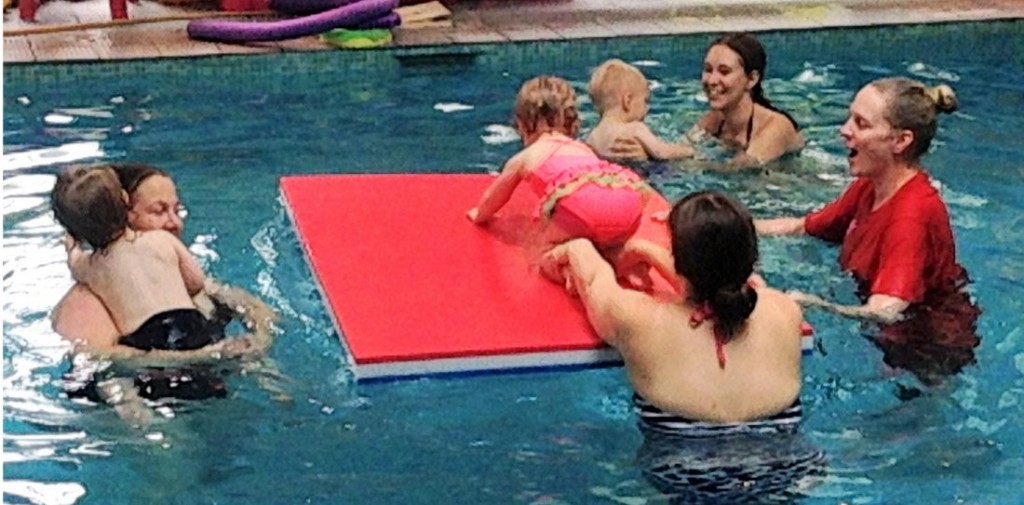 We help develop the ability to understand and work together with your baby's cues and toddlers talk, a necessary skill to help babies and toddlers feel safe and happy in the water.
We give time for bonding, nurturing the parent child relationship, just you and your baby with no external interruptions, fun, cuddles, skin to skin contact and delight in the unexpected moments of development in the pool.
We use a gentle baby elective approach to submersion, encouraging children to blow bubbles and wet their faces as much as they want when they are ready, whether that be through mimicking bubble blowing, splashing their hands to wet faces or deliberate face wetting when they are ready, through jumping in or whilst using specific holds. We find this to be a fun stress-free way to keep a love of water and avoid any water wobbles! We do not encourage or engage in any forced submersions, which would take the choice away from the baby or child and can cause trauma.
We work in harmony with your baby; we encourage exploration and development through movement and holds that help integrate reflexes to encourage definite movements. These moves and holds will be consolidated through lessons and can be easily practised when you go swimming with your baby. The variation of holds and activities we use help babies develop and improve their balance and co-ordination, both of which are essential aquatic skills to take forward on your baby's swimming journey.
Research has shown that babies that attend classes regularly are far better developed socially, mentally and physically compared to others of the same age who have not had regular lessons. In addition, babies and children are given the opportunity to problem solve, develop language and early introduction to maths through nursery rhymes during classes.
I have seen such an improvement in Tamzins swimming during her lessons, Anna is amazing with the kids and makes swimming fun! We look forward to our lesson every week, I can't tell you enough of how happy I am with Tamzins lessons with Anna.
We have loved our lessons with Anna. Olivia really enjoyed the water and I enjoyed all the techniques Anna has shown us!
We have really enjoyed the baby class with Anna. The class is so gentle and is very much focused on baby gaining confidence and choosing to put her face in and to jump in when she is ready. It's also lovely only having a few of us in the pool. We have really enjoyed the lessons and look forward to carrying on.
I take Xander to Anna's class every 

Monday

 and it is absolutely the highlight of his week. He is extremely confident in the water and Anna encourages him whilst helping me to keep him safe! Anna is knowledgeable and patient; she allows the children to go at their own pace so that they don't lose confidence. Importantly, we always have a good laugh! Many thanks to Anna and Seahorses for making our Mondays such fun and we'll definitely be coming along next term.
We absolutely loved it! William LOVES the water and giggled throughout. Really liked the structure of the class and Anna is so personable. Looking forward to next week already!
Cost & Term Structure
Classes are held at our Tongham and Grayshott pool. We have a maximum of 4 pairs per class. Baby & toddler classes are £13.75 per week at Tongham and £15 per week at Grayshott. Payments are made by monthly direct debit, based on the term length. We swim alongside the school terms, with a break for half terms and holidays (approximately 40 weeks per year).
Availability & Booking
We are constantly expanding the classes we offer due to high demand for our lessons. Baby & toddler classes are based on age and swimming experience and are allocated on a first come first served basis from when we receive a completed booking form. Classes are booked on a termly basis and your space is automatically carried forward each term. Please book early to avoid disappointment.
Payments
Lesson payments are taken by monthly direct debit via our handling system, GoCardless, are calculated based on the number of weeks of the term. Payments are split over four months each term. Payments are taken one month in advance of lessons. Full information about payment details is available under "Pay Online".