Our Grayshott pool is housed in a luxurious private pool complex within the grounds of a private residence on Headley Road.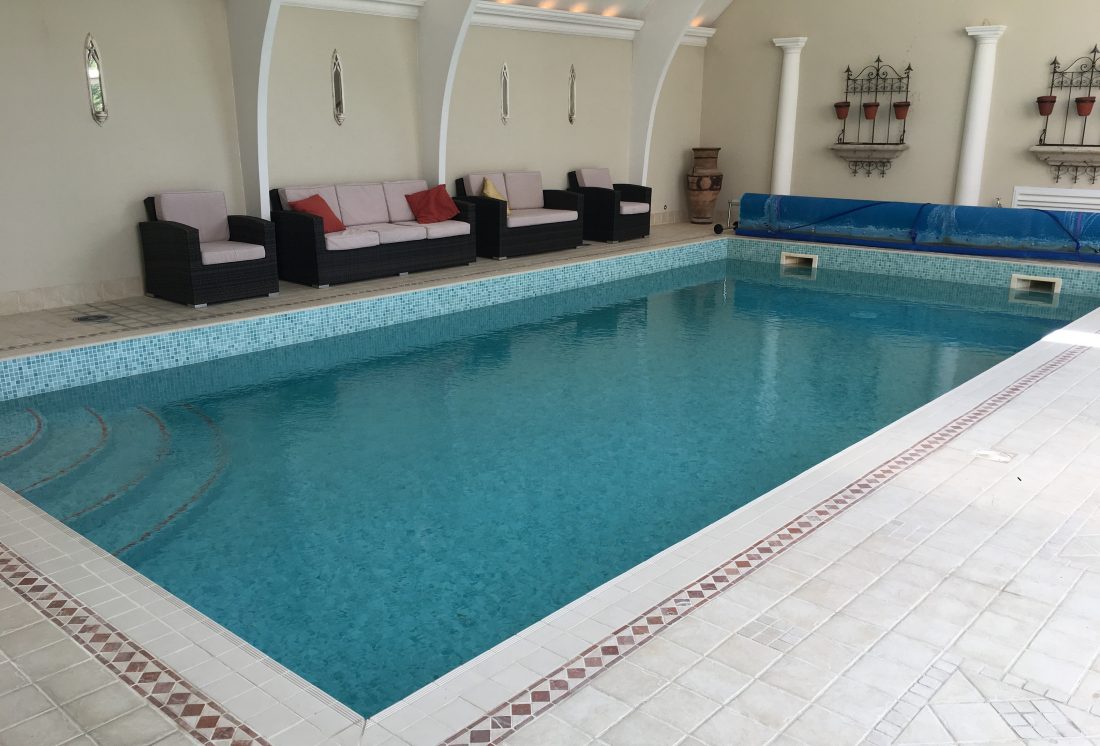 Our Grayshott pool is situated within the grounds of a private house on Headley Road and offers a luxurious calm & private swimming environment in a tranquil setting. There is ample parking available on site, in front of the house itself and on the turning circle driveway.
There is a communal changing room with space for around 4/5 children to change at once, which includes two showers in a private shower room and a toilet. There are also two additional screened changing areas available on poolside and ample storage for shoes and clothes. A wide range of products are available for our swimmers' use at the pool including shampoo, conditioner, body wash, body lotion, space nappies & sanitary products, spare towels and hats if needed, squash and drinking water and basic medications such as headache tablets in case they are of need.
The pool itself is just under 10m long and 4.5m wide, with a constant depth of 1.2 meters and large steps in one corner. The pool is heated to a lovely 31 degrees and is housed in a large, airy private complex, with poolside conditions controlled fully by an air handling system to ensure comfortable conditions for both our swimmers and parents watching the lessons. There is comfortable seating available on poolside for our parents and siblings to watch the lessons and a playpen with toys for little ones.
We offer preschool and school aged beginner, improver and private lessons at our Grayshott pool. Once the children have mastered the strokes they can look to progress to one of our larger pools. Our preschool classes have a maximum of just 3 children per class and our school aged classes have a maximum of 4 children per class. We also offer private 1:1 and 1:2 lessons.
Anyone entering the pool complex must remove their shoes and store on the shoe rack provided. Please ensure all children use the toilet and have a quick shower before their lesson start time and take a seat on poolside quietly once you are ready. A range of products is provided for our swimmers' use – please help yourselves to wash products and drinks but please tidy away after.
We fully appreciate that it is very enjoyable and rewarding for parents to watch their children learning to swim and share their enthusiasm. We politely ask that parents refrain from talking to their children whilst lessons are taking place as this draws the children's attention away from the teacher and the lesson, which can be very dangerous. If you feel by watching the lessons on poolside your child is becoming distracted and not reaching their potential we are more than happy for parents to wait in the changing room or in their car whilst lessons take place. Please do not leave the site in case of emergency.
Please change in a timely manner after your lesson has finished and leave the site quietly.
Our Grayshott pool is very accessible with approximate journey times as follows:
Bordon – less than 15 minutes
Lindford – 10 minutes
Liphook – less than 10 minutes
Haslemere – 10 minutes
Milford – 10 minutes
Church – 5 minutes
Elstead – 15 minutes