Our fantastic private pool in Tongham, Farnham is suitable for Birthlight baby swimming, preschool, beginners, early improver and adult beginner classes. The pool and changing room have recently undergone a huge renovation and upgrade and we are confident we have the best facility around!
Our Tongham pool is situated within a private house on Poyle Road and is perfect for learning in. There is plenty of easily accessible parking available in the layby opposite the house and community centre just down the road, has brand new custom built changing facilities, toilet and shower facilities available at the pool. The pool itself is heated to a toasty 33 degrees and there is seating on poolside for parents to watch the lessons. Our Tongham pool is the perfect small size and offers a calm and relaxed environment for children and parents to learn in and is much less daunting that a full sized pool for new or nervous children.
Please arrive no more than 10 minutes before your lesson start time and ensure you are ONLY park in the layby opposite the house and community centre just down the road. These parking areas are part of our commercial license agreement with Guildford Council. We are very fortunate to use such a lovely private pool so please be courteous and respectful towards the homeowners, their friends and family, the neighbours and local community.
Our Tongham pool has just had a huge £11,000 renovation, so has brand new custom built changing facilities. Anyone entering the changing room or poolside must wear a pair of the blue overshoes provided or remove their shoes. Once you are changed and ready please ensure your children use the toilet and have a quick shower before coming on to poolside. Please make sure the children shower slightly before their lesson start time to ensure a smooth change-over period between lessons.
We fully appreciate that it is very enjoyable and rewarding for parents to watch their children learning to swim and share their enthusiasm. We politely ask that parents refrain from talking to their children whilst lessons are taking place as this draws the children's attention away from the teacher and the lesson, which can be very dangerous. If you feel by watching the lessons on poolside your child is becoming distracted and not reaching their potential we are more than happy for parents to wait in the changing room or in their car whilst lessons take place. Please do not leave the site in case of emergency.
Please change in a timely manner after the lesson has finished and leave the property very quietly, with children fully supervised at all times, especially near the roads.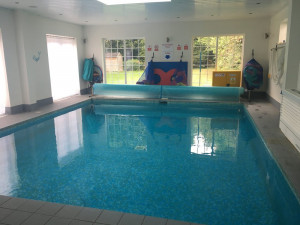 Our Tongham pool is very accessible with approximate journey times as follows:
Farnham station – less than 10 minutes
Bentley station – 15 minutes
Aldershot station – 10 minutes
Ash centre – 5 minutes
Ash Vale station – less than 10 minutes
Farnborough centre – 10 minutes
Mychett – 10 minutes
Elstead town centre – 10 minutes
Puttenham town centre – less than 10 minutes
Wanborough station – 10 minutes
Guildford station – less than 15 minutes